April 16, 2018Staff writer
On January 20, 2018, Las Vegas Review columnist and proud liberal attack dog Jane Ann Morrison wrote in a Sunday prime time column a hit piece about U.S. Marine Veteran and Veteran activist, Steve Sanson, claiming the Veteran's advocacy group he leads, Veterans in Politics International, was a "For Profit" organization. After Sanson demanded a correction, and even after Morrison admitted the error, she refused to run the correction for some 2 weeks. She finally ran the retraction on February 5, 2018 in the back section of the Monday newspaper.
Again in yesterday's prime time Sunday's RJ newspaper, Jane Ann Morrison wrote her third hit piece on Steve Sanson in the last 7 months.
It all started when Steve Sanson took on numerous claims of corruption within the Clark County Family Court system after hearing from hundreds of litigants. Sanson filed numerous judicial ethics complaints against sitting Family Court Judges and was even threatened by a Judge from the bench. Sanson has been so effective that the Judicial Disciplinary Commission is holding a hearing on May 30, 2018 in Reno, investigating charges against sitting Family Court Judge Rena Hughes. Channel 8 and 13 News have run numerous stories about the charges against her as well.
Steve Sanson is now running for State Assembly District 13 in the Republican primary. On his platform Sanson is calling for new laws to protect litigants in Family Court, including restoring the 7th Amendment Constitutional right to a jury trial in Family Court and letting minors over the age of 14 decide which parent they want to live with. Sanson is running against recently fired Metro Assistant Sheriff Tom Roberts, (Roberts was forced out of Metro into early retirement after the Oct. 1 Vegas Mass Shooting).
So this time Morrison wrote her prime time Sunday column hit piece claiming "Sanson also has a convicted for domestic violence." The problem with her claim is there's no record of a domestic violence conviction in the system and Sanson has been a CCW holder for over the past 10 years. If Sanson had any such conviction on his record he would have been denied a CCW. In addition, Sanson was a member of the Las Vegas Metro Police Department "Use of Force Board" in 2009 and 2010, again requiring him to pass a back ground check. Jane Ann Morrison has refused to provide her evidence of his Domestic Violence Conviction to date.
According to Sanson's ex-wife, the story is a lie. Sanson is demanding the story be retracted or he is threatening to file a Defamation case against Morrison.
This isn't the first time Morrison has been accused of using her column for political or unethical purposes. Morrison wrote a deeply personal and scathing attack in a recent column about Judge Richard Scotti accusing him of incompetency. Some court observers accused her of writing the column to force Judge Scotti to recuse himself from the case he was handling involving the Review Journal verses Metro Police. Judge Scotti recused himself after the story ran.
EMAIL SCREEN SHOT OF JANE MORRISON SLOW WALKING THE RETRACTION OF HER FAKE NEWS ABOUT SANSON
Steve's website for AD13-
THIS IS WHY SANSON IS A TARGET IN THIS TOWN ACCORDING TO STEVE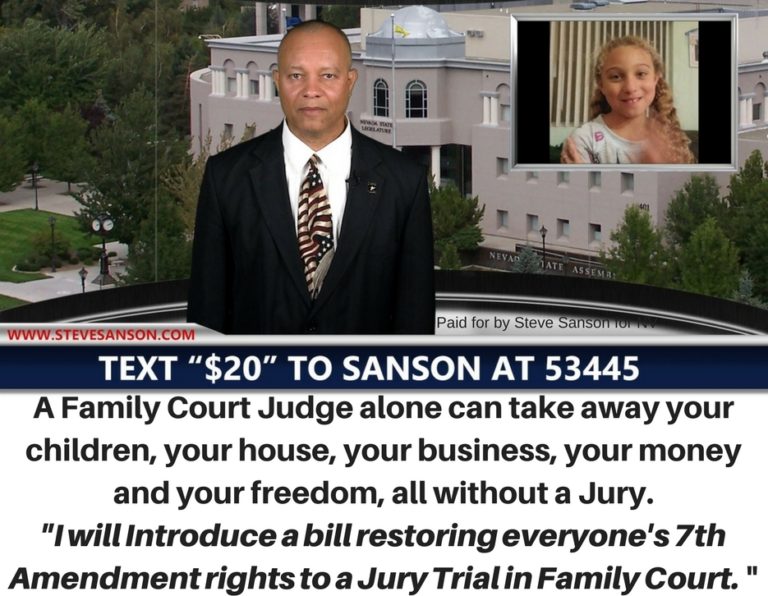 Watch our Interview filmed last week with Steve Sanson