Video of LVMPD Search of CCW Holder Sparks Demands for Reforms of the Citizen Review Board!
http://360newslasvegas.com/video-of-lvmpd-search-of-ccw-holder-sparks-demands-for-reforms-of-citizen-review-board/?fbclid=IwAR2iJQ1_5_QHdB615hGrHF5qXaLOkne2uO77muY63xYEHorm1UbxeNrDanw
June 16, 2020
Rob Lauer Political Reporter
The Las Vegas Citizen Review Board's mission as stated on their website: https://citizenreviewboard.com/AboutUs.aspx
"The Las Vegas Metropolitan Police Department Citizen Review Board (Review Board) is composed of twenty-five citizens who are appointed by two members of the Las Vegas City Council and two members of the Clark County Board of County Commissioners. The Review Board was established for the purpose of receiving and investigating complaints of misconduct by peace officers of the Las Vegas Metropolitan Police Department (METRO) in the performance of their duties. The Review Board is also able to investigate any deaths, which occurred while in the custody of, or in connection with, actions of METRO police officers. The Review Board advises METRO regarding citizens' complaints or departmental policies and practices and makes recommendations to the Sheriff regarding discipline, policies, procedures, and programs."
U.S. Marine Veteran, Steve Sanson, filed a formal complaint with the LVMPD Citizen Review Board over the handling, or mishandling of a "search" conducted by Las Vegas Metro Police Officer Pinal last year, but then director Ms. Beckman, refused to review the complaint. Internal Affairs stated the Complaint "didn't rise to misconduct".
In order to obtain a Conceal Carry Permit in the State of Nevada, one must attend a one day class and shoot their weapon on a range. Then pay a fee to Metro Police and undergo a four-month deep background check. Then and only then Metro Police issues residents a CCW ID card to present to the police. BTW one only needs a CCW if the weapon is on their body not in the car center console, or trunk under Nevada law.
On March 22, 2019, Sanson, a CCW holder since 2003, was pulled over by Officer Pinal for speeding.  Attached to this story is the body camera video of the incident. Sanson, tells the officer up that he is a CCW holder and has a firearm in the car, as required by law. Officer Pinal proceeds to ask Sanson to get out of the car, searches him, and places him in handcuffs.
Officer Pinal asks Sanson "is it OK if I reach in and grab it ?" (referring to his insurance and registration). Sanson says "no".
Sanson told the officer he did not have permission or probable cause to search his car. Officer Pinal responds saying "I am not going to search your vehicle, but I can frisk it". The video shows Officer Pinal using his flashlight vigorously searching the vehicle. The officer never mentions any probable cause or crime Sanson is being charged with which may have supported the allegedly unlawful search of Sanson's vehicle.
In addition, the Supreme Court has ruled that police may not search a vehicle once a person is in handcuffs without their permission.
According to Don Turner, President of Nevada Firearms Coalition, "In no way does a CCW give a police officer the right to search the CCW holder's car or his weapons under Nevada law." 
Sanson filed the attached complaint of the incident with the Las Vegas Metro Review Board, but the Director, who has since passed away refused to review it.
This was the response he got from the longtime Director Beckman.
Back Story; 360 did a story about one of the members charged with DUI while on the board resulting in that member resigning. Somehow Beckman confused Sanson with the 360 stories.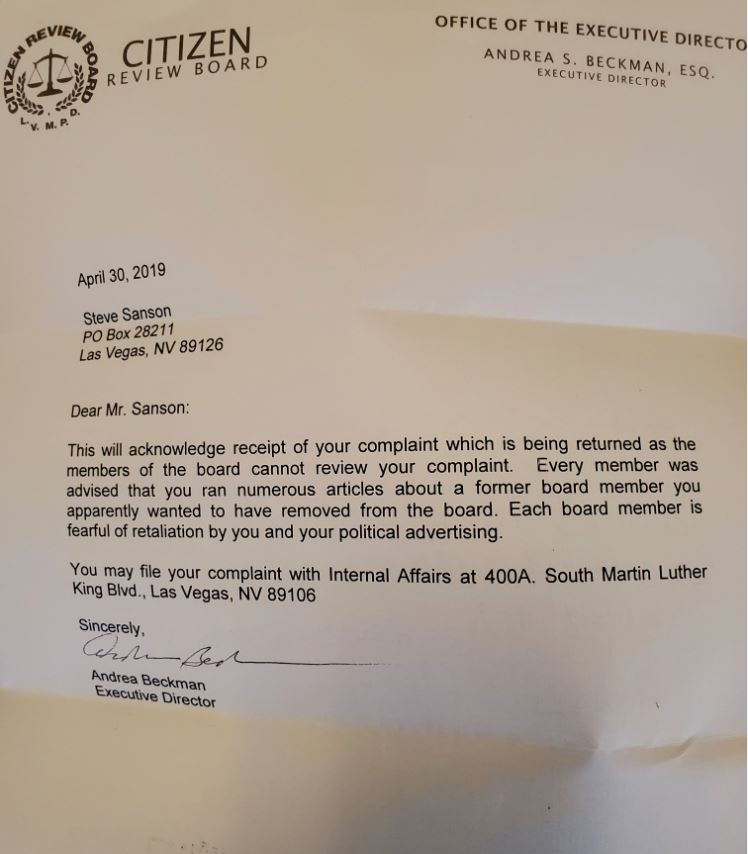 Sanson then filed a complaint with internal affairs. They did nothing as well.
Sanson told 360 "Without a serious review by the LVMPD Citizen Review Board, there is no way to tell if Officer Pinal's actions were an isolated incident, bad judgment, overzealous policing or Department-wide policy towards CCW holders". Mr. Sanson has refiled his complaint with the Citizen Review Board this week.
Sheriff Lombardo has done a great job rebuilding the LVMPD after Gillespie destroyed their reputation resulting in the U.S. Department of Justice Oversight. Even-though his ICE policies have been controversial, Lombardo has to lead the way in recruiting, training, and discipline. I have seen, first hand, professional and competent LVMPD detectives and cops in action. But part of the process of rebuilding requires constant review of policies and tactics. That's why many Police supporters are now calling for a major overhaul of the Las Vegas Metro Citizen Review Board.